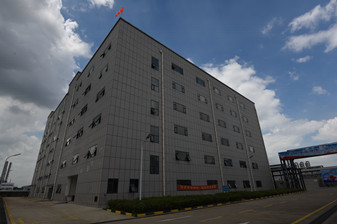 Changzhou Yinsheng Pharmaceutical Co., Ltd. was founded in April 2003, located in changzhou High-tech Zone, is a collection of research and development, production, sales as one of the modern pharmaceutical factory.

Our company has more than 120 employees, including 55 technical staff of college or above, 30 management personnel, all graduated from the relevant pharmaceutical, chemical, pharmaceutical preparation, biotechnology, pharmaceutical engineering and other professional, solid theoretical foundation.

Our company is clear at the beginning of in producing high technology content, the innovation ability of active pharmaceutical ingredients, the main development direction for the enterprise, company's overall layout strictly according to Chinese GMP and cGMP, the whole factory covers an area of 33076 m2, the existing factory building area of 15000 m2, build form a complete set of Grade D clean workshop, accord with the requirement of pharmaceutical production.
Our company has passed GMP certification in China, CEP registration in the Europe, MF registration in Japan, registration in India, etc. In May 2016, our company also passed the third review by the FDA of the United States, and its products are exported to more than 30 countries and regions such as Europe, America, India, Russia, southeast Asia, etc. In order to ensure the smooth development of research and development and production, the company has invested a large amount of money in the construction of safety and environmental protection. It has successively obtained fire safety certificate, comprehensive pollution control permit for environmental protection, ISO14001 environmental management system certification, mandatory clean production certification and safety standardization acceptance.

In 2015, our company approved the establishment of "Jiangsu Blood and Infectious Disease Pharmaceutical Engineering And Technology Research Center", and determined the development idea of "relying on scientific research institutions, and establishing the integrated development system of production, study and research with enterprises as the innovation subject". Company in May 2012 with the sichuan university national heavy point laboratory biological treatment (national innovation comprehensive drug development platform, the Ministry of Education in biological treatment of collaborative innovation heart) signed a long-term technical cooperation agreement, established close cooperative relations, the successful use of the advantage of the joint development of industry, and has combined Sichuan university, China pharmaceutical university and Shanghai Pharma Mingde New Drug R&d Co. LTD., more than one new drug development project, and get the support of national science and technology major projects.
Over the years, the company adheres to the road of scientific and technological innovation and development, actively introduces advanced technologies at home and abroad, and has established long-term cooperative relations with Sichuan University, China Pharmaceutical University and Shanghai Pharma Mingde New Drug Development Co., LTD. It has successively developed two 1.1 class new hepatitis C drugs and one 1.1 class new anti-drug-resistant tuberculosis drugs. Technological innovation of raw materials of aminotoluene acid, tranexamic acid raw materials, luracetone hydrochloride raw materials and related preparations. Three projects have been carried out to transform scientific and technological achievements, one of which has been listed in the National Torch Plan. In order to protect its intellectual property achievements, the company has applied for 9 invention patents and 1 utility model patent. Among them, 4 invention patents and 1 utility model patent have been authorized. The company's new drugs have also been approved by the national "13th Five-Year" major science and technology projects.
The company has built a preparation building of 4000m2, a r&d center of 1500m2, and the third phase of new API workshop is under construction. The company will move towards the comprehensive development road of API supporting preparations and finally move towards the road of listing through preparations. Since 2009, the business revenue has been growing continuously. The company attaches great importance to the upgrading of equipment and has introduced several sets of domestic advanced reaction equipment, centrifuges and Agilent HPLC, GC and Marvin laser particle size distribution instrument. Total assets continued to grow, reaching 31.55 million yuan in 2009 and more than 90 million yuan by the end of 2017. The company's total sales volume of API will reach more than 100 million yuan in 2018.
In recent years, the company strictly implement national and local laws and regulations on environmental protection and safety, solid waste management in strict accordance with the relevant requirements, waste water, waste gas, noise and other emissions in line with the relevant national standards, at the same time, the company adhering to the "safety first, prevention first, comprehensive management" guidelines, actively improve the safety management system, the good faith management, and management, adhere to the concept of innovation to improve facilities, improve the quality management system, improve product quality, in the past many times in the audit of the quality of the domestic and foreign customers have been well received.
Our company will seize the opportunity and spare no effort to speed up its own development, develop new products and accelerate its transformation and upgrading, so as to make Yinsheng Pharmaceutical "stronger and bigger" as soon as possible.